The Aspire Pockex Box vape kit is an easy-to-use choice that offers plenty of opportunity for customisation. It's ideal if you're looking for a DTL (Direct To Lung) and MTL (Mouth To Lung) kit in one. It features a fast-charging 2000mAh battery that will last you the day, no matter which wattage your kit is set to. The 2ml pod supports both the 0.6 Ohm and the 1.2 Ohm coil from the Aspire Pockex coil range and you'll find one of each in your kit.
Featuring smart coil technology, the Pockex Box chooses the wattage that best matches your coil for you. This means you don't have to spend time figuring out the correct wattage. If the 0.6 Ohm coil is inserted, you'll experience a DTL vape which produces a larger amount of vapour. However, for a more discreet MTL style vape, we'd recommend the 1.2 Ohm coil. Plus, single button operation means you can start vaping at the click of a button.
Features:
2000mAh Built-In Battery
MTL & DTL Vaping
Wattage Detection
2ml Refillable Pod
Single Button Operation
USB-C Fast Charging
What's in the Box:
PockeX Box 2000mAh Device
2ml PockeX Box Tank
0.6 Ohm PockeX Coil (Pre-Installed)
1.2 Ohm PockeX Coil
USB-C Charging Cable
Spares Bag
User Manual

The Pockex Tank has a 2ml capacity and can be filled easily by sliding the top to reveal the e-liquid inlet. Thanks to adjustable airflow, whichever coil option you go for, you'll have the choice to swap between a tighter or looser inhale. The Aspire PockeX Box vape kit is a redesign of the classic Pockex and the new version features a bigger battery as well as more opportunities for customising your vaping.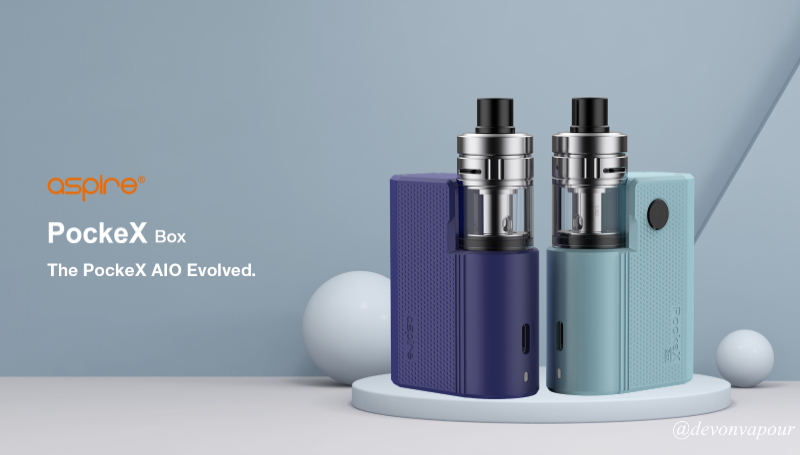 Pricing: £39.95 £34.95 Spare Coils £2.50each