The Pico COMPAQ is a pocket-sized, stylish and powerful pod mod. Utilising a single 18650 battery cell, the COMPAQ can produce up to 60W of power, whilst the comfortable design makes the device great for all day vaping. A crisp OLED screen displays any current settings at a glance, and a USB-C charging port is fitted for fast and stable charging.
The Pico COMPAQ pod is magnetically connected for ease of use, and features a side filling port and the GTL 0.4ohm push-fit mesh coils are perfect for convenience. The large wicking areas on these coils enable the use of various e-liquids, including nic salts. In addition, a stylish dust cap fits over the pod to prevent any dust or debris from entering, while still complementing the overall style of the device.
Why Buy the Eleaf Pico COMPAQ?
The Pico COMPAQ would be well suited to both new and existing vapers. For new vapers it is easy to use and can be recharged quickly, whilst the simple side filling pod and push-fit coils reduce maintenance required. Existing vapers will appreciate the clear screen and the ability to use various e-liquid flavours thanks to the mesh coils.
Eleaf Pico COMPAQ Highlights
Up to 60W of power from a single 18650 battery
Clear OLED screen quickly displays current settings
USB-C port for fast and efficient charging
Handy dust cap prevents the pod collecting dirt and debris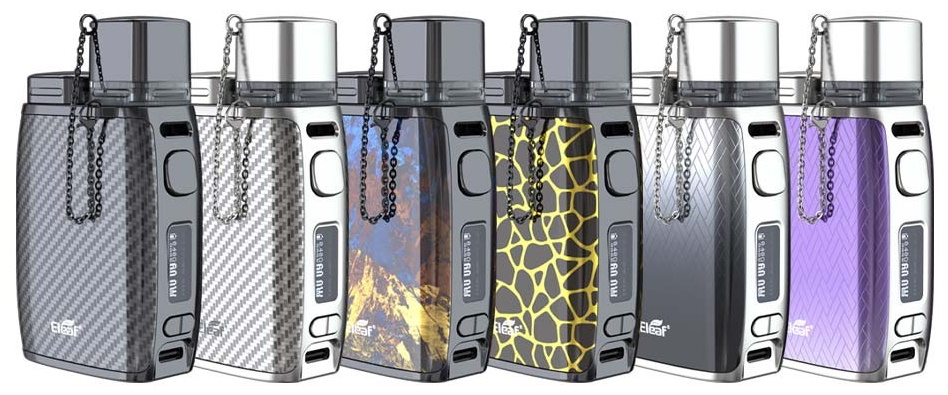 Specifications:
Pod capacity – 2ml
Atomiser resistance – 0.4ohm mesh
Output mode – VW
Wattage range – 1-60W
Atomiser resistance range – 0.1-3.0ohm
Battery compatibility – 1x 18650
Max charging current – 2.0A
Dimensions – 89.0mm x 53.5mm x 31.5mm
Assembled weight exc. packaging – 183g
What's in the box:
1 x Eleaf Pico COMPAQ
2 x GTL atomizer heads
1 x USB-C cable
1 x Warranty card
1 x User manual
Compact & Stylish – The Eleaf Pico COMPAQ is pocket-sized and stylishly crafted to fit comfortably in your hand. Available in a range of colours to suit your preference, the COMPAQ is well suited to any vaper.
60W of Power – The Pico COMPAQ may be small, but using a single 18650 battery it can output up to 60W of power with ease. This allows the COMPAQ to handle a variety of vape liquids with ease.
USB-C Charging – The COMPAQ comes equipped with USB-C charging, which actively reduces the charge time required in addition to increasing charge stability. The USB-C cable can also be inserted any way up unlike traditional micro USB ports.
Protective Dust Cap – A handy dust cap is attached to the Pico COMPAQ body to help prevent the pod inside from coming into contact with any dirt or debris. This cap also compliments the COMPAQ's style throughout all the colours and is easily removeable if not required.
Pricing:
Kit with 2500mAh Battery £39.95 (Upgrade to 3000mAh for an extra £3)
Replacement Coils £3 each or a box of 5 £13. Spare Pods £3 each