The Innokin Coolfire Z80 Zenith II kit offers a level of versatility that makes it easier than ever to discover your perfect vape. It's powered by one 18650 battery, which supports an output of up to 80W. The Zenith II tank, a 0.3 Ohm coil and a 0.8 Ohm coil from the Zenith range are included. This tank can support the whole range of Zenith coils, meaning its able to accommodate a wide range of vape styles, from MTL (Mouth To Lung) to DTL (Direct To Lung) vaping.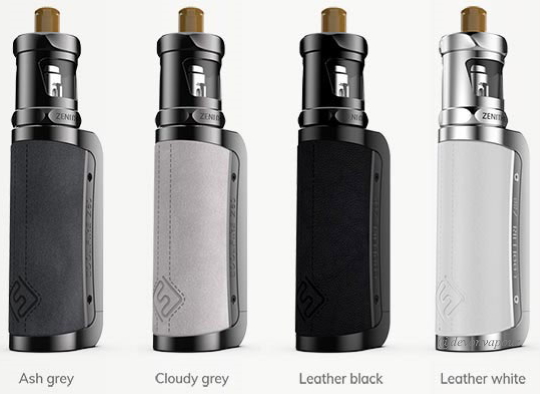 With its Variable Wattage function, you can choose to set the power between 6 – 80W. This puts you in control of your vape's power and you can choose a setting that's most suitable for you. Also, you can turn on the innovative F0 mode which Innokin says uses a particular frequency to boost flavour. The compatible Zenith coils range from 0.3 Ohm to 1.6 Ohm. This means whether you prefer DTL and a greater amount of vapour or MTL and a more discreet amount of vapour, this kit has you covered.
What's in the Box:
Coolfire Z80 Mod
Zenith II Tank
0.8 Ohm Zenith Coil (Pre-Installed)
0.3 Ohm Zenith Coil
Spare Zenith II Drip Tip
Spare O-Rings Set
USB-C Charging Cable
User Manual
Features:
Powered By 18650 Battery
6 – 80W Power Output
Variable Wattage
2ml Capacity Tank
MTL & DTL
The Zenith II tank holds up to 2ml of e-liquid and can be paired with a wide range of flavours and nicotine strengths. It features a top fill mechanism that makes refilling easy and you don't even have to remove the tank from the device to fill it up. Adjustable airflow means that you can twist the base of the tank to choose a tighter or looser draw, meaning you can find an inhale that feels right for you.


Pricing:
Full Kit (Exc Battery): £49.95
Full Kit (Inc Battery): £54.95
Coils: £2.50ea £10 box of 5
Optional Extras:
Spare 18650 Battery £6.50
Xtar 2 bay USB Charger £6.95