The TECC arc 5S adds new functionality to the most popular e-cigarette product within the TECC range, the arc 5. The inclusion of a sliding top fill tank offers quicker refilling and a higher quality airflow adjustment ring. Great for new users and the vast majority of regular vapers.
A 2200mAh integrated battery, large enough to last most users a full day of vaping without recharging, paired with the Slider CS Air tank with sliding top fill mechanism and an improved airflow control ring. This allows for better adjustability and easier refilling. The arc 5S battery provides VW adjustment up to 40W, and is sub-ohm capable, allowing customers to use lower resistance CS coils such as the CS-M 0.35ohm should they wish to increase vapour production.

OLED Screen
The built-in OLED screen displays the battery level, output in both watts and volts, as well as the resistance of your coil and length of time you draw on the device on each inhale. Put your arc 5S into stealth mode with a few clicks and lock your preferred settings with key lock mode.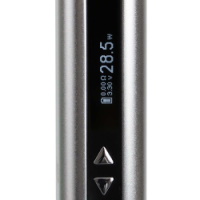 ---

Sliding Top Fill
Unlike the original arc 5, the arc 5S comes kitted with the Slider CS Air tank which, as the name suggests, features a sliding top fill mechanism. The incredibly popular CS coils remain in a surround which is more user-friendly to some vapers.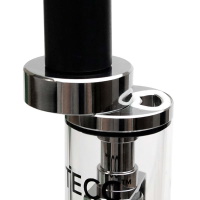 What's in the box:
1x arc 5S battery
1x Slider CS Air tank
1x CS coil
1x USB charging
1x User manual
Specifications:
Tank capacity – 2ml
Coil resistance – 1.5ohm
Resistance range – 0.2-3.5ohm
Battery capacity – 2200mAh
Output mode – VW
Output power – 1-40W
Dimensions – 128mm x 21mm x 32.5mm
Assembled weight (approx.) – 126g
Pricing:
Full Kit £42.95 – Spare Coils 32.50ea – Replacement Tank £13.95