Optimised to be more ergonomically tuned from the Nautilus Prime, Nautilus Prime X still retains the great functionality and style characteristics. Built anew to fit with a replaceable 18650 battery, it is now upgraded with a more precise and wider range of airflow, and with two pods options for more flexibility. Pioneering the route to ultimate excellence.
Retaining the predecessors' popular style of shape and design characteristics, Nautilus Prime X is optimised to be more ergonomic and stylish. Made of zinc alloy and soft leather, Nautilus Prime X perfectly combines softness and durability, which will provide elegant look as well as soft and comfortable touch.
Nautilus Prime X is powered by replaceable single 18650 battery to provide prolonged usage.
Replaceable 18650 battery
Type-C 2A quick charging
Super convenient and durable battery door
Adopting an in-house stable boosting program, Nautilus Prime X features maximum 60W output and ultra-fast response.
1-60W wattage output
0.001S fast heating response
VV/VW/Bypass/Auto output modes
Smart ASP chipset with intelligent power memory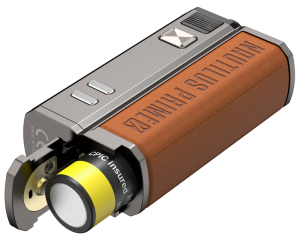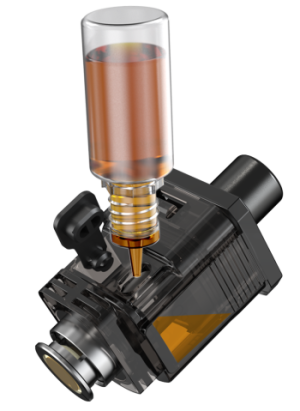 Nautilus Prime X always maintains its dedicated pursuit of precise airflow adjustment. Nautilus Prime X comes with a 0.96" TFT color screen. With the selectable UI color options and adjustable brightness, maximized to meet your personalised needs.
The same versatility as its predecessor, Nautilus Prime X accepts universal Nautilus and BP coils. Specifically, two pods are included in the kit.
One purchase, two different pods, Aspires famous coils, infinite enjoyment.
Filling the Nautilus Prime X from the side of the pod, lift the silicone seal to refill. Ultimate convenience!
The Nautilus Prime X uses Aspires self-developed ASP chipset, which comes with the overall protection for safe use.
Specifications
Dimensions (including drip tip): 91*45*25 mm
Weight (battery not included): 110g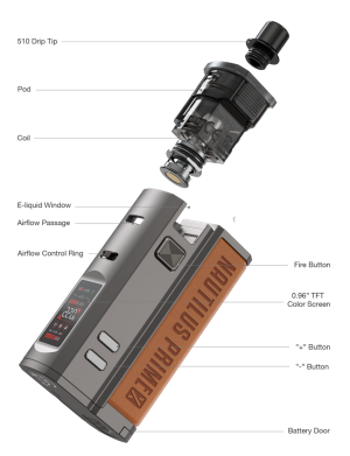 Pod Parameters
Capacity: 2.0 ml
Pod for Nautilus coil – PCTG;
Pod for BP coil – PCTG+ Heat resistant food grade Nylon
BP mesh coil 0.3Ω (30-40W)
Nautilus mesh coil 0.7Ω (20-25W)
Mod Parameters
Battery type: Replaceable single 18650 battery
Output modes: VV/VW/Bypass/Auto
Output wattage range: 1-60W
Output voltage range: 0.5-8.4V
Supported resistance range: 0.1-3.5Ω
0.96″ TFT color screen
Type-C 2A quick charging
---
What's in the box:
Aspire Nautilus Prime X 60W Vape Device
Prime X BP 2ml Refillable Pod
Prime X Nautilus 2ml Refillable Pod
BP 0.3 Ohm Mesh Coil
Nautilus 0.7 Ohm Coil
USB-C Charging Cable
User Manual
Pricing:
£39.95 Device Only
£44.95 Including 18650
Spare Pods £4ea
Coils £2.50ea