Urban Chase short fill e-liquid is available in 10 exciting and cutting-edge flavours, all carefully crafted to provide vapers with the ultimate short fill experience. With a selection of fruit, dessert, iced and drink flavours to choose from Urban Chase short fill can cater to virtually any vaper that is looking for high quality vape liquid.
Manufactured in the UK, Urban Chase is a vape liquid which draws from over a decade of industry experience and ticks all the boxes that vapers look for, creating an ideal all day vape short fill e-liquid you will want to come back to time and again. In addition, the 30/70 PG:VG ratio allows Urban Chase to produce large clouds of vapour, especially when used with a higher powered vape kit and coil.
Urban Chase short fill bottles have a unique flip-top lid to allow easy access inside the bottle to add your nic shot.
For the best experience, pair Urban Chase with its nic shot equivalent and enjoy this outstanding range of flavours to their maximum, all day every day.


PG / VG Ratio – 30 / 70
Nicotine Strength – 0.0%
Bottle Size: 60ml
10 Flavours
Made in the UK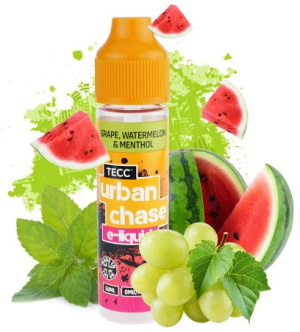 Flavours:
Apple & Pear – A delicious and refreshing blend of crisp green apple and juicy pears create this outstanding combination.
Apple Pie & Custard – Sweet baked apple with lashings of creamy vanilla custard, finished with a buttery pastry.
Blackcurrant, Aniseed & Menthol – Plump, ripe blackcurrants and delicate aniseed, surrounded by a tingly cold menthol; an ideal all day vape.
Blue Raspberry – A fruity duet of tasty blueberry and juicy raspberry come together, creating a sweet yet refreshing vape experience.
Bubblegum – A classic sweet shop style vape, evoking the distinct tutti frutti bubblegum chew flavours you would expect to taste.
Frozen Cherry – Deliciously ripe red cherry collides with an ice cold koolada, resulting in a flavour you'll want to revisit time and time again.
Grape, Watermelon & Menthol – Freshly picked green grapes and sweet watermelon is finished with a cool, icy menthol.
Mixed Fruit Squash – A taste of summer in a bottle. This recreation of a British classic drink is bursting at the seams with grapes, juicy raspberries, and blackcurrants. A delicate sweetness surrounds this outstanding flavour.
Raspberry Sherbet – An intensely fizzy raspberry is complemented by a zesty lemon sherbet, with just enough sweetness to keep you coming back for more.
Strawberry & Kiwi – A delightful fusion of confectionery style strawberry and mouth-watering kiwi. An absolute must for any fruit loving vaper.
Why "Nic Shots"?
Nic shots can be added to any short fill e-liquid in order to vape it with nicotine. 1 x 10ml nic shot added to a 50ml short fill will translate roughly to 0.3% (3mg) strength. If using a 100ml short fill bottle, adding 2x nic shots will create the same 0.3% (3mg) strength.
Pricing:
£12.95 including a Nic Shot