The Aspire Zelos Nano kit is a compact option for vapers that prefer an MTL (Mouth To Lung) inhale and discreet vapour production. Powered by a built-in 1600mAh built-in battery, you'll experience more vaping between charges and the kit can last up to a whole day on one charge. Included in the kit is the NEW Nautilus Nano tank that is compatible with the New 1.0ohm and 1.8ohm Aspire Nautilus coils also included.
To give you the option of choosing how your kit works, the Zelos Nano features two modes. Variable Wattage mode allows for the wattage to be adjusted between three power settings, giving you control over how much vapour is produced. However, Bypass mode sets the wattage to the most powerful level based on the resistance of the coil that's inserted. Designed for MTL vaping, the 1.0 Ohm coils will produce a little more vapour than the 1.8 Ohm coil.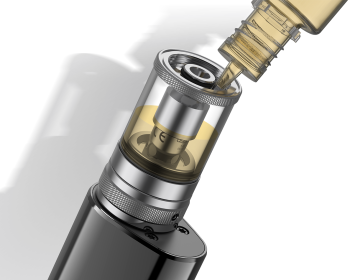 The Aspire Nautilus Nano tank features convenient top filling. This means there's no need to remove the tank when topping up and there are no more messy refills. As well as this, the adjustable airflow allows you to set a tighter or looser draw, meaning you can find an inhale that feels right. We recommend using this kit with either a 50/50 e-liquid. It also works very well with nic salts.
The Zelos Nano kit is made of a premium aluminum alloy body, which has been polished, sandblasted, and anodized, to achieve an outstanding final appearance. In addition to providing an exceptionally pleasant hand feel, the compact design contributes to a tough, but sleek classic appearance, as well as an elegant style.
Features:
Three Power Levels
MTL Vaping
1600mAh Battery
Fast Charging
Bypass Mode
Variable Wattage Mode
2ml Top Filling Tank
What's in the Box:
Aspire Zelos Nano Mod
Aspire 2ml Nautilus Nano Tank
1.0 Ohm Aspire Nautilus Coil
1.8 Ohm Aspire Nautilus Coil
Spare Glass
O-Rings
USB-C Charging Cable
User Manual
Paying close attention to the preference of MTL users, the Nautilus Nano is designed with 5 different air intake adjustments. The air intake holes' diameter can be adjusted to "None", "φ0.8", "φ1.0", "φ1.2", and "φ1.6" from left to right, to meet the demands of most users for MTL airflow intake.

Pricing: Full Kit £34.95 – Spare Coils £2.50ea £10 Box of 5 – Spare Glass £3