The Aspire Zelos 3 starter kit has been developed with new vapers in mind and is well-suited to Mouth to Lung (MTL) vaping. Thanks to its variable wattage and wide choice of coils, it can be adapted to your needs. At the same time, thanks to its push button controls, it is also easy to operate. Powered by a 3200mAh battery it can easily last you all day on a single charge, even when used at the highest settings. It features a 2ml top-filling Nautilus 3 tank with 7 point adjustable airflow.
With Customisable Power Settings you can also fine-tune your heat ramp-up (power curve) to select a time from 1 to 15 seconds. All this is accomplished with the aid of a 0.96-inch colour screen that also displays essential information about wattage, temperature and a puff counter.

The 2ml tank features a slide-open top-filling system that reduces the chance of leakage. The adjustable airflow enables you to choose between a tighter or looser inhale. And the press-fit coil installation system, coupled with the e-liquid shutoff valve, makes coil replacement clean and easy. The kit is compatible with the Aspire Nautilus coils. With the included 1.8 Ohm Nautilus BVC Coil we recommend a 50% VG or higher PG liquid and 70% or higher VG liquid with the 0.7 Ohm Nautilus 2S Mesh Coil that also comes with the kit.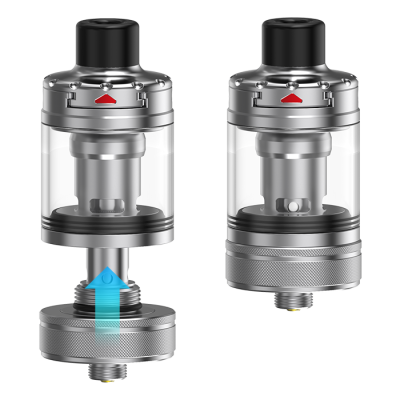 The Nautilus 3 Tank offers several airflow options, which can be adjusted through 7 different configurations. The diameter of the airflow holes are: 3.0mm, 2.5mm, 1.8mm, 1.5mm, 1.2mm, 1.0mm and 0.8mm, which ensures richer and thicker flavor.

The Nautilus 3 Tank also boasts an innovative press-fit coil change system that makes coil replacement super simple, alongside an e-liquid shutoff valve to prevent e-liquid getting into the coil chamber whilst you change coils. No mess, much more satisfaction.
As well as all of these features, the Zelos 3 offers excellent protection against vaping overtime and overheating, low voltage, overcharge and overdischarge; as well as short-circuit protection. It is a versatile kit for anyone new to vaping and you can adapt it as your vaping needs change over time.
Features:
Adjustable Wattage Range: 1-80W
Smart ASP Chipset System
Convenient Press-Fit Coil Installation
2ml Top Fill Tank
Bottom Adjustable Precise Airflow
0.96 Inch Colour TFT screen
Puff Counter

Pricing:
Full Kit: £49.95
Mod Only: £34.95
Nautilus 3 Tank: £22.95
Coils: £2.50ea £10 box of 5
Replacement Glass: £3
What's in the box:
Zelos 3 Mod (3200 mAh)
Nautilus 3 Tank (2.0 ml)
Nautilus BVC Coil 1.8 Ohm
Nautilus 2S Mesh Coil 0.7 Ohm
Type-C Cable
Spare Drip Tip
User Manual